Originally Posted https://dot.la/fan-controlled-football-league-2647792974.html [09/24/2020] by Leslie Ignacio
Fan Controlled Football does what it says: It lets those in the virtual bleachers have more control of the game.

Backed by high-profile investors including rapper Quavo of Migos and former boxer Mike Tyson, the latest esports league announced it will launch live-streamed games over a six-week on Twitch this February.
"Every sports fan ever has wanted a different call," said co-founder and CGO, Patrick Dees. "Everybody's screamed at their television, I don't know anybody who hasn't. So they get a chance to actually change that and be part of it. It really talks about how you would have called a better game and you get a choice and a chance to prove that out."
FCF announced their next season, along with a Series A raise for an undisclosed amount backed by Lightspeed Venture Partners and Verizon Ventures among others.Co-founder of sports website Bleacher Report Dave Finocchio joined Reddit co-founder Alexis Ohanian investing.
FCF is the latest esports startup to sprout up as interactive video games and the pandemic remakes sports. The company pitches itself as a professional league. And Fan Controlled Football lets fans control the names, colors and logos of their teams.

Owners and managers that are "personalities in the sports world" will partner up to lead four teams. Fans can now register on their website to sign up alongside their favorite team owner to help build the group up through the pre-season.

"FCF is breaking new ground by giving fans the ability to literally be a part of the game, and we're thrilled to partner with the league for what will be a defining moment not just in football but for the sports industry at large," said Twitch SVP of Content Michael Aragon in the announcement.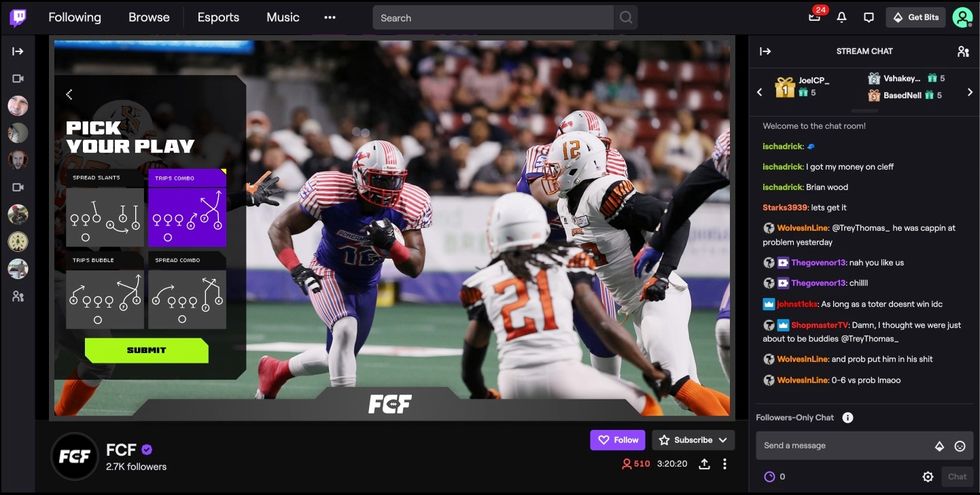 The idea has been sitting in the four founders' minds for a few years now, but has now attracted the attention of big names including ,NFL Super Bowl Champions Richard Sherman and Marshawn Lynch,, Greg Miller from Kinda Funny and content creators from Twitch's community, as well as Tyson and Quavo.

Twitch has already secured rights to livestream the first two seasons of Fan Controlled Football. The season will consist of one playoff week, four regular season weeks, and one championship week. Each game will be 60 minutes long.